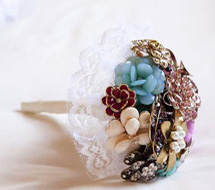 I am so thrilled that Amy and Ben have allowed me to share their wedding with you. When I first saw Amy's beautiful dress I knew I had to have a look at the rest of their wedding and it does not disappoint. Wait till you see the stunning brooch bouquet which Amy made herself.
From Amy:
Both the Groom and I had a clear vision for our wedding day: a day of celebration in a natural setting with a cosy feel. Once we found the venue, Beloftebos, it made the actual planning process so much easier as it greatly influenced our ideas! We wanted to steer clear of a wedding that would be impersonal as well as cost a fortune, however we wanted to keep the style and integrity of the day. We made use of good quality, above average, vendors for those things we did not want to 'skimp on' such as the invitations and the cake, and where we could we relied on a bit of DIY and family and friends to help with the photography, décor and the like.

Recycled food tin-cans as well as glass coffee jars were used to pot our centre pieces. I made the table numbers from Scrap Book Paper and sourced the heart garlands from In Good Company. We used aloes to 'decorate' St. Thomas Anglican Church as to keep it simple and fuss-free. We wrapped them in hessian and tied a ribbon around it as to echo the country feel at the reception venue. We decided against dancing at the wedding, and in the place of the dance floor positioned a 'low lounge' – made from hay bales – where guests could relax and enjoy the bonfires and fairy lights which complimented the venue.

Erna, from Eterna Couture, made my dress. After an uncomfortable session with various dress-makers, I met with Erna and she immediately understood the look I was going for. It made a very big difference to have someone listen to me and advise me accordingly as to what I wanted for my day, instead of being told what I would look good in.

Again, in order to save on costs, the bridesmaids and myself did our own make-up. I bought their bouquets (bunches of 'snap dragons') for R30 each at a local flower shop, as apposed to the amount I was quoted per bouquet. I also made my own bouquet. Little things like this made a huge difference to the wedding budget, as well as added to the character of the day.

A bit about the wedding day:

Although this might sound cliché, it really was a perfect day! Even the weather played along! I refused to get wound up about the little things and tried to enjoy every moment of it! It is difficult to single out a particular highlight – from when my dad walked me down the aisle, when I saw Ben's face, to the reception – with old 'band stand' hits playing in the background and amazing food – it was magical!
Venue & Food: Beloftebos, Stanford (Meat: Eatwell Meats)
Dress: Erna @ Eterna Couture
Groom's attire: Country Road
Invites: Bianca @ Lucky No. 9
Cake: The Cake Box
Bouquet: Amy (Bride)
Veil: Michana White
Bridal Accessories (earrings): Attitude; Forever New
Church: St. Thomas Anglican Church, Stanford
Décor and Flowers: Amy (Bride);  Quirky Parties;   In Good Company
Hair: Janine @ de Lau Wellness Centre, Sandbaai
Make-up: Amy (Bride)
Photographer: Sven @ Sven Ragaller Photography
Living Wall: Garden Up
Confetti: Scatterlings
Thanks Amy and Ben, your wedding was stunning and your dress amazing
Pin It