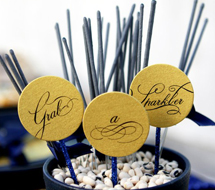 Long length wedding sparklers @R30 per pack from Quirky Parties
 
Whether it's for your first entrance as husband and wife or your exit on the way to your honeymoon, long length wedding sparklers will put the spotlight on you and make your big entrance or departure stylish and fun. Use sparklers for your first dance or even in your centrepiece for something different. Imagine the photo opportunities? Your wedding photos full of sparkle will be among your favorites. Have some long length wedding sparklers available at the reception for your arrival. Everyone loves sparkle and your guests will love it. Alternatively place your sparklers in the shape of a heart and have a photo taken of the two of you inside the heart –  Stunning? Whatever you choose be sure to light up the night and have fun.
Where to buy long length wedding sparklers? Click here
70cm long length wedding sparklers are available at Quirky Parties Also see their Facebook page here. These sparklers burn for 3 minutes and are so much fun. Sparklers are shipped nationwide.
Photo at the top of the post is courtesy of Hostessblog
Pin It