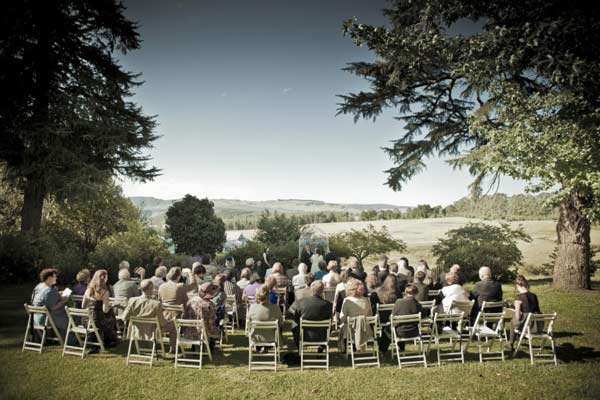 I am so in love with this next wedding. Colonial feel, jazz band, croquet and who can resist the gorgeous little flower girl in her stunning little outfit? What more can I say? These beautiful images are by Kelland Photography.
From the bride (Skye):
Neil and I met while volunteering at the British Museum, London, in 2005. Our relationship grew stronger over the years as we shared a fondness for exploring London's art, culture and heritage. I took Neil home to South Africa with me several times over the years, and we enjoyed visiting Kruger, the Natal Midlands and Cape Town together. On New Year's Eve 2009, just at the clock was striking midnight, Neil proposed to me at our home in London.

We were married in the garden, overlooking beautiful Midlands countryside, at Lastingham Guest Lodge on 9th April 2011. We shared our wedding day with 56 guests – many of whom had travelled from around the country and from Europe to be with us on the day.

Without doubt we decided to marry in South Africa – I wanted to be married near to my family and where I grew up, and we realised that our budget would stretch a lot further than if we got married in the UK. Plus, we wanted an autumn wedding with sunshine!

We chose to hold our wedding at Lastingham for several reasons: the gorgeous Edwardian farm house provided the perfect backdrop for our 'colonial chic' style wedding, and we knew we could trust Lynne Holding's interior design experience to bring our ideas to life. Lynne also provided brilliant wedding coordination on the ground while Neil and I planned the wedding from London.

Neil and I share a love for all things vintage, and we chose to represent our South African and British heritage through elements of colonial styling for the wedding. We really enjoyed planning our wedding; the time spent gathering vintage-inspired accessories for the bridal party, designing our own stationery, and scouring antique shops for teacups all added important personal touches to our memorable day.

It was important for us to make our guests feel well looked after and entertained throughout the day. Following the ceremony, we cut our wedding cake and toasted the celebration with speeches. While group and creative photographs were taken by our talented photographer Sean Kelland, guests had the opportunity to enjoy a traditional afternoon tea on the lawn, play a game of croquet and relax while listening to fantastic live jazz music from Beat-Route.

At dusk guests were invited to take their seats in a marquee, situated alongside the Lastingham farm house, for the evening reception. The 'colonial chic' style of the wedding really came together in the marquee – we wanted to reflect both an 'out of Africa' element with a sophisticated dinner setting that echoed early 20th century style entertaining. The marquee was draped to represent a camping canopy, while the entrance was decorated with palms in ethnic pots, hurricane lanterns, Nguni hide rugs, travelling trunks and camp-style seating. Within the marquee, guests were seated at long banqueting tables decorated with damask linen and crystal glassware, beautiful flower arrangements in a variety of silverware, groups of old books and frames holding wedding photos of our ancestors. During part of the evening, we asked the DJ to play 1920 – 1940s music, which we had collected, to mimic the sounds that might have been played from the vintage gramophone we also displayed in the marquee.

Following the delicious three course meal provided by Lastingham, we enjoyed our first dance and disco. Coffee, wedding cake and a cheese platter were served later in the evening. The day was incredibly surreal for Neil and me, but we thoroughly enjoyed our celebration of love and commitment and were delighted to have family and friends share the day with us.
Service providers:
Venue (including catering and coordination): Lynne Holding & Mike Macnab, Lastingham Guest Lodge, KwaZulu-Natal Midlands www.lastingham.co.za
Photographer: Sean Kelland, Kelland Photography etc, Western Cape www.kellandphotography.com
Flowers: Kerry Dinkelman, Kerry's Flowers, Pietermaritzburg
Cake: 3 tier wedding cake with sugar flowers made by Pam Alty;
cupcakes made by Skye (bride)
Bride's Dress: Monsoon Bridal (UK)
Vintage Headband:  Flo & Percy (UK) www.floandpercy.com
Hair: Zelda Du Toit, The Salon, Pietermaritzburg
Groom's Suit: New & Lingwood, House of Fraser (UK)
Décor: vintage props and teacups sourced by bride and groom in the UK and South Africa;
Safari props and silverware sourced by Lynne Holding and Kerry Dinkelman
Stationery: collages designed by Skye (bride) and printed by Precision Printing (UK)
Jazz band: Beat-Route, Durban www.beat-route.co.za
DJ: Mega Music, KwaZulu-Natal Midlands www.megamusic.co.za
Pin It