This post is by Sarah Harris of Wedding Planning Advice. Thanks to Sarah for guest blogging today.
Modern bridal trends have shoved archaic styles and rigid rules out the wedding window. It is no longer mandatory for bridesmaids to be forced into the same style, same hue, ill-fitting frock. Allowing your bridesmaid besties to express their personal style without stealing your show is possible and can create a beautifully blended look. Even though mixed and matched bridesmaid dresses can be a recipe for visual success, there are several key elements to keep in mind to keep the cohesiveness in your affair.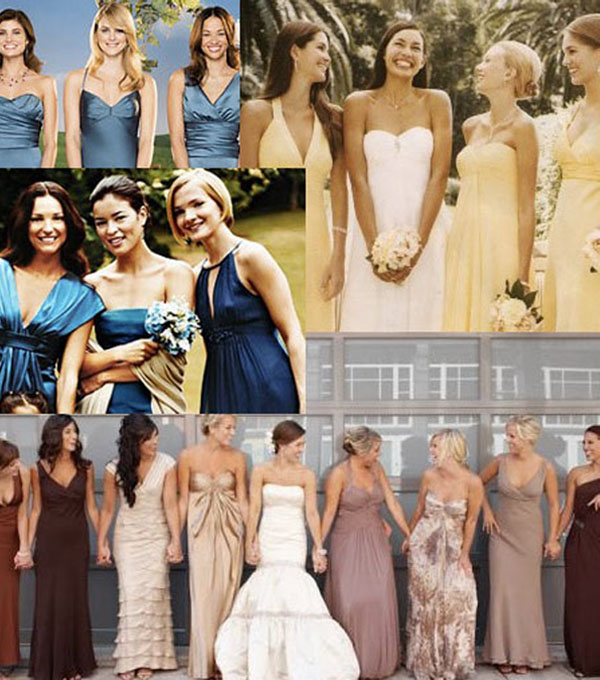 Keep it in the Family
A mixed palette of bridesmaid dresses can look beautiful and unique. The key to pulling off this look is to choose dresses that are in the same color family. For instance, if the colors you are using are complementary, they will blend beautifully. Bride beware, going crazy with colors has its dangers. If you choose too many colors, your wedding has the potential look more Rainbow Brite than intimate nuptial night.
The Long and Short of it
If your bridesmaid's dresses are similar hues, feel free to switch up the lengths of the gowns. Similarly colored dresses in different lengths look great together and allow your loved ones to experiment with flattering styles. If you are mixing hues, it is usually best to stick with dresses that are the same length. A mixed palette of floor length or tea length gowns creates an interesting look that won't distract from your bridal beauty!
What do they want?
Even though every bride usually has how she wants her bridesmaids to dress in mind, try consulting your chosen chicks for what they like. Chances are high that each woman in your bridal party has a different body type and the same A-line dress looks better on some than others. Your bridesmaids will appreciate you consulting them on their tastes and preferences. If your girls feel included in the process, everyone will win because the best accessory for any gown, short or long, strapless or sweetheart, is a smile!
Image credits:    Mixed Blue,  Light Yellow,  Dark Blue,   Browns
Guest post by Sarah Harris of Wedding Planning Advice, a blog for brides created to help them stress less by providing honest and unbiased wedding advice, ideas, and tips. Check out our free wedding widgets to countdown to your big day.
*1st link goes to http://weddingplanningadvice.net
*2nd link goes to http://www.weddingplanningadvice.net/free-wedding-widgets/
Pin It